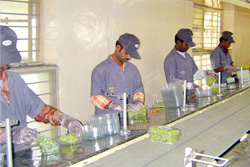 DeccanProduce
is one of the foremost exporters and suppliers of Fresh Grapes, Pomegranates, Mangoes and Fruit Pulps and Agri commodities from India.
We have a strong market presence in Europe, CIS, Middle and Far East countries.
Quality and innovation is what we strive for and most of our produce is sourced from Globalgap certified farms and packhouses are HACCP certified, commodities are SGS certified for quality adherence before delivery.
Profile:
DeccanProduce is a privately owned business enterprise. We commenced operations as an individual enterprise in the year 1997 and with expanding operations formed a closely held Limited liability company in the year 2003.
The company is lead by Mr. Nagesh Shetty, a Civil Engineer and management graduate by qualification. Healthy and Safe food is at the heart of our export operations.
The Company operates in the Fresh Produce, Fruit Pulps and Agri commodity sectors of food operations. We operate from packhouses in Mumbai and Nasik for our fresh produce and Unit at Krishnagiri in Tamilnadu for our Pulp business.
We envision a high growth phase in the coming years having established ourselves as a prominent exporter in the fresh produce sector.
An enlightened management, adaptability to the latest technologies and keeping abreast with market, close interaction with our peers and growers, form the core our strength.
The company actively interacts and contributes to the Indian discourse on the food sector by contributing to trade and government bodies. We hold a spirit of healthy competition with our peers some of whom we respect for their pioneering spirit in this industry. That we are members of such trade promotion bodies is just for record, us being there has helped us acknowledge the hard work put in by come of our compatriots in Industry and government to get the Indian food industry where it is today.
BRCS certificate
ISO certificate
Deccan Deccan
Edibles RCMC
EXPORT HOUSE
Certificate
E-Certificate
DECCAN EDIBLES
E-Certificate GRASP
DECCAN EDIBLES
Fssai Licence
HACCP Final certificate
Royal certificate
Packhouse Certificate
Coconut Certificate
Euro Global Certificate
Globalgap certificate
Haccp certificate
Updated News
1) Visit us at Fruit Logistica Berlin 2019, For our products upgrades and more innovative product ideas this year.


2) Join us from September 7th to 9th at Bombay Exhibition Centre, Mumbai, and discover upgraded products and innovative culinary concepts that will shape the future of taste.
🌟 Explore Product Upgrades 🚀 Unveil Innovative Creations Connect for Collaborative Opportunities
Don't miss this chance to be part of culinary innovation! See you there.